Excessive level of noise generated by machines in the construction and agricultural industry is inevitable, however if ignored can cause hearing loss, stress and fatigue in both the operator and people nearby. It is no surprise that today both employers and manufacturers put great effort into protecting its operators from machine noise in the workplace.
David Delaney, PU Operations Manager at Tecni-Form, has previously assisted noise testing on a range of acoustic mat compositions at Salford University testing facility. The results indicated that a well-engineered composition (elastomer) provides exceptional transmission loss and mass dampening capabilities suitable for creating noise reducing floor coverings and other cab interior mouldings.
Noise level can't be avoided at work
According to www.hse.gov.uk website, the Noise Regulations (came into force in 2005 in Great Britain) define 'exposure action values' – levels of noise exposure which, if exceeded, require the employer to take specific action. The lower exposure action value is daily or weekly personal noise exposure of 80dB, the upper value is at 85dB and the peak sound pressure is at 135 and 137 dB. These very loud 'impact noise' levels can be more damaging than the daily / weekly noise exposures and even leads to a risk of immediate and permanent hearing loss. The general rule is that if the workplace is exposed at or above the upper value of 85 dB, the organisation must take action to reduce the noise exposure. The below table shows some of the working environments where there is an obvious risk.
Task
Average Noise Level (LEP, d)
Carpentry
92
Concrete – chipping / drilling
– floor finishing
– grinding
– concrete worker
85+
85
85+
89
Driving a dumper or roller
85+
Formwork
92
Labouring – concrete pour
– digging / scabbing
– shovelling hardcore
– shuttering
– angle grinding /cutting
97
100
94
91
90-110
M&E general installation
89
Piling – operator
– worker
85+
100+
Reinforcement Work
86
The supplier challenge for industrial vehicles
Tractors in agriculture are especially noisy by its nature, while in the construction industry noise sources on site can include the use of jackhammers, excavators, dump trucks, earth-movers, cement mixers, welding machines, to name a few; all caused by its powerful engine. People who work here are exposed to these for many hours daily. When you consider these machines, apart from its productivity features and ergonomic aspect, noise levels are now a significant purchasing consideration for the customers.
There is no shortage of examples for these initiatives when you see how these vehicles are promoted today. JCB's Command Plus Cabs "provide operators with unrivalled quietness" or "it is 50% quieter than the previous design with a best-in-class 69dBA rating". Another leading manufacturer, Caterpillar, created "a suite of validation tools that brings together all machine noise sources into one predictive capability, representing the information visually to guide engineers to make changes that will reduce sound emissions".
Part suppliers and industry vehicle manufacturers are facing a complex task to balance sound design and engine performance; to test different antivibration solutions, research for different sound absorbing materials and to control noise level through the cabin design. There is also new noise source identifier technics include sound intensity equipment and highly effective acoustic camera arrays, combined with smart software, could provide an intelligent insight into the problem.
Innovative floor coverings to depress noise
Engineers at Tecni-Form believe sound reduction is only a question of choice of materials and design. Their well-engineered cabin floor mats act as a sound barrier for the noise emitted from the engine, gear box and transmission located below as the tough flexible PU material (similarly to rubber finish) dampens the sound rather than it being transmitted into the cab. Their engineers have utilised a design feature that can make these cabin mats more sound deadening incorporating a special waffle pattern cored out from the underside of the mat surface. Utilising their reaction injection moulding process technically complex designs can be achieved applying this feature.
The waffle pattern's contribution to noise reduction in the cab has been proved by David Delaney 's team at Salford University acoustic testing facility. They came to the conclusion that as the mass of the barrier increased the noise reducing capability of the floor mat improved. Having used more weight/material it also contributes to the production cost of the product, but using a waffle design the surface contact with the cab floor reduces the area where noise and vibration can be transmitted. The tests also indicated that where waffle pattern had been added to the design, it could create surfaces where standing waves can form potentially reducing noise in certain frequencies (dependant on the size and number of voids).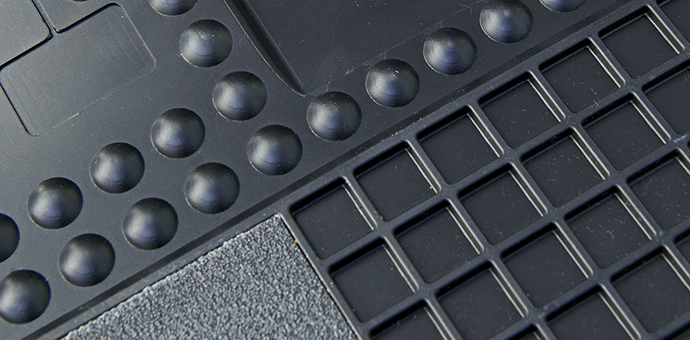 An alternative way of reducing noise level through these PU mats is adding foam to it which act as an extra barrier, insulation and anti-vibration layer. When it is produced, the area where the foam is to be placed is cored out by the mould and can then be filled using a die-cut closed cell foam, or even cast directly in position.
With its high-quality technical mould, comes with no surprise, why these Tecni-Form acoustic floor mats are the preferred choice by JCB, a leading industry vehicle manufacturer.
Controlling noise from construction and agriculture sites is not just an important trend in the sector but it is an integral part of the health and safety duties and responsibilities that all employers need to follow as legislative requirements. Nobody argues that noise reduction is a challenging task as it is a proven fact that prolonged exposure to noise results in long term harm to your hearing. This is irreversible, once your hearing is gone, it is gone!
Meet us at iVT EXPO in Germany to discuss how we can help you with your cab flooring requirements.