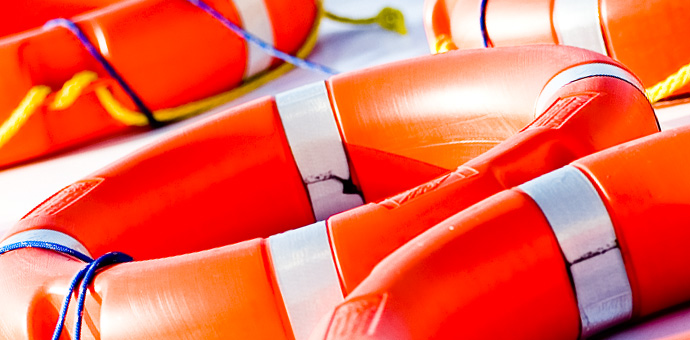 From fishing to yachting, ship-building to fish farming or oil production, RIM and rotationally moulded plastic has a part to play in your industry
Rotational and Reaction Injection Moulded Plastic for Marine and Aquatic Products
As you can imagine, the hollow plastic items produced by rotational moulding are of great value to the marine and aquatic industries. Rotomoulding is ideal for manufacturing simple hollow plastic objects such as fenders, buoys, pontoons, lifebuoys and other flotation devices.
If you add polyurethane foam to a rotomoulded component with RIM process, it provides extra buoyancy and strength while also preventing it from being filled with water. This could be ideal for floats, buoys or pontoons.
Ships, Boats, Hydrofoils or Oil Rigs – Why Plastics are Ideal
Boat builders and naval architects have been utilising plastics increasingly for very many years. Their resistance to corrosion is a leading reason; but also they look good, are tough and can be shaped more readily than metal to suit the curved lines of ships and boats.
It is also a perfect process for constructing the hulls of small boats inexpensively. From kayaks and catamarans to dinghies or yacht tenders, rotomoulding can produce a handsome and practical little vessel.

Just right for the short production runs typical in ship and boat building
Where appearance of a part is important, Tecni-Form are well placed to provide almost any colour or texture that you demand. And they are particularly expert at building up assemblies of plastics and metals, meaning that Tecni-Form can deliver complex components to you, all ready to fit.
RIM and RM Components for Marine and Aquatic Equipment
Fittings for boats and ships can also be manufactured by rotational or reaction injection moulding, for example dashboards, housings for navigation equipment, ventilation ducting, stowages, seats and cabins. Large numbers of fuel, flotation and water tanks are made using rotomoulding. Even boat charging and water filling pedestals at harbours or offshore pipeline fittings are sometimes moulded this way.
An interesting application would be PU flooring (mat) for decking solutions used on yachts or boats.
Whatever your involvement in the marine world, from fishing to yachting, ship-building to fish farming or oil production, RIM and rotationally moulded plastic has a part to play in your industry.
A call to Tecni-Form with your idea could well pay off. They always enjoy discussing projects: each one is a challenge to their enthusiastic design team.