Lightness, strength, and corrosion resistance, combined with style for ACE industry
Seamless Integration From Concept to Manufacturing
Tractors, combine harvesters, telehandlers, farm implements, excavators, cranes, loaders and earthmovers are agricultural or construction vehicles using Tecni-Form mouldings. Industrial machines like tugs, trolleys, gantries, fork-lifts and cranes often lead a pretty hard life. Modern plastics are tough and reliable and could be the right material in many instances. The advantages are lightness, corrosion resistance, ease of cleaning, durability and style.
Designers can create elegant, efficient shapes which are difficult or impossible in metals. Plastics are now so tough that they will stand up to very rough treatment: it is just a question of design and selection of the right polymer.
Simple to Complex Shapes for Custom-made Moulded Parts
for Industrial Vehicles & Machines
Some examples are fuel tanks, hydraulic tanks, fenders, body panels, roofs, cab interior mouldings, sound reduction panels, floor mats, bulkheads, seat components and cowlings. All of these can be made using rotomoulding or reaction injection moulding (RIM) processes. Tecni-Form can achieve sophisticated results with their leading-edge techniques. Tecni-Form can include the injection of polymer foams into components to give them rigidity and insulating qualities.
(Click on the image below for more information.)
A Single, Complete Mould Simplifies Installation and
Results in Substantial Cost Savings
Shapes can be moulded with machined holes, slots and cutouts which are common for certain consoles or tanks. Furthermore, parts can be designed with metal inserts like mounting brackets, threads and bushes permanently moulded in. Relying on a single, complete mould simplifies installation and results in substantial cost savings for vehicle manufacturers in the agriculture and construction industry. It's about founding the best solution at the development stage. Tecni- Form have the capability, rare in the moulding industry, of assembling multiple plastic and metal parts into one component ready for a customer's production line. If required, Tecni-Form will project manage the sourcing of the component parts.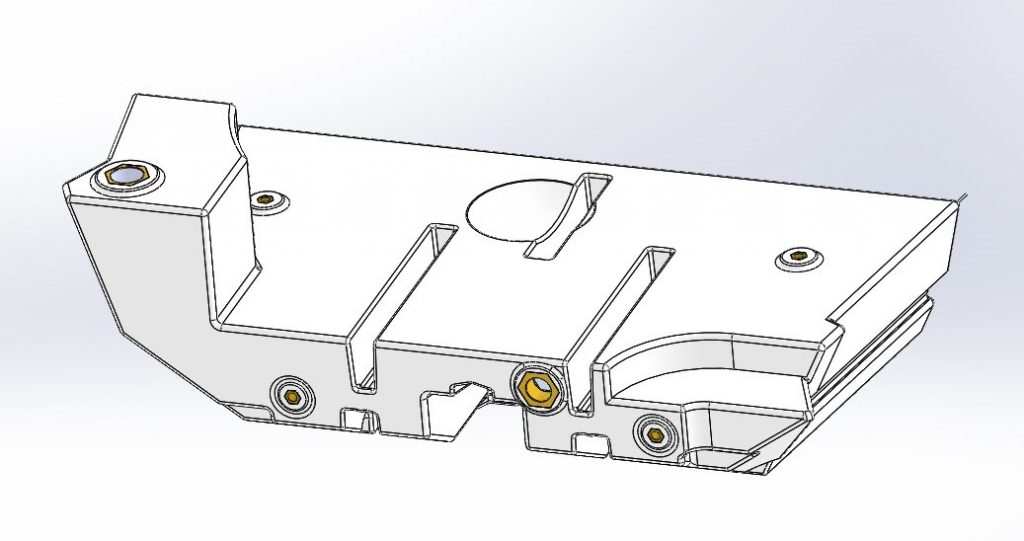 " The Tecni-Form team is very proactive and is willing to look at anything we send to them and freely makes comments on any changes that will improve the finished product. " – A leading manufacturer of woodchipper machines
Tecni-form can add logos, written or diagrammatic instructions, and warnings into the surface of a moulding. Agricultural and construction vehicles (ACE) today can have style as well as function, and all parts can include surface textures and decoration.

With the right combination of metals and plastics, it is possible to make a reliable engineering component with predictable behaviour under load. This could open a whole new way of designing inexpensive but highly durable assemblies for your industrial application. All our team are highly experienced and are only too happy to discuss new applications. They always enjoy discussing projects: each one is a challenge to their enthusiastic design team.
Noise Control Applications (NVH) for Agricultural, Construction and
Industrial Machines
High-density filled elastomer provides exceptional 'transmission loss' and 'mass damping' capabilities perfect for cab floor coverings.
Durable high-density filled elastomer is suitable for a range of noise control applications, including high quality interior cab trim and effective bonnet insulation. Its engineered composition provides exceptional 'transmission loss' and 'mass damping' capabilities perfect for cab floor coverings.
Tecni-Form offers a special waffle texture to be incorporated into the cab mat moulding design to absorb some cab noise. The waffle pattern is cored out from the underside of the PU mat surface, where the waffles trap the air. An alternative way of reducing noise level through these PU mats is adding foam to it which act as an extra barrier, insulation and anti-vibration layer.
"This PU cab flooring has met the design requirements in terms of physical space envelope, but also met the noise and durability requirements." – A leading manufacturer of equipment for construction & agriculture.
To learn more about noise reduction with Tecni-Form, click on the blogs below:
Break the Sound Barrier for Industrial Vehicles
Smart PU Cab Floor Mats Aid Noise Reduction for Industrial Vehicles