Delivering Excellence in Reaction Injection Moulding (RIM)
Reaction Injection Moulding (RIM) is the injection of a precisely proportioned mix of chemicals into a mould. The mould is manufactured from polymer resin or cast- or CNC-machined aluminium. The material sets by chemical reaction.
By the selection of ingredients, RIM mouldings can range from soft and highly flexible to hard and highly rigid. By the inclusion of a blowing agent, RIM can produce flexible or rigid foams. Foams can also be formulated to have an integral skin for a decorative or functional finish.
By spraying the mould prior to the moulding process it is possible to produce an entirely different surface colour and/or flexibility than the main form of the moulding. RIM mouldings can incorporate moulded-in components in metal or other materials.
PU mouldings can be used to develop a wide range of applications for non-structural or semi-structural purposes offering an alternative to traditional materials such as wood, metal, rubber or thermoplastics. Products can be made with particular properties or performance requirements.
Flexible PU – Filled Elastomer
Durable high-density filled Elastomer is suitable for a range of noise control applications, including high quality interior cab trim and effective bonnet insulation. Its mechanical strength offers optimum tear and abrasion resistance. Its engineered composition provides exceptional 'transmission loss' and 'mass damping' capabilities perfect for cab floor coverings. The use of 'in-mould coat' paints offers UV protected finish in any colour.
Soundproof cab flooring with great aesthetics used in the ACE industry including JCB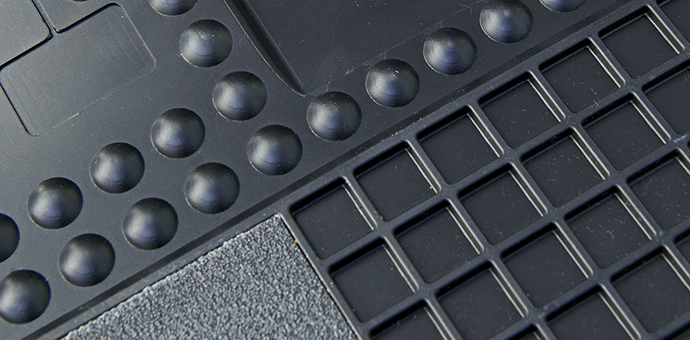 Floor mat showing both foam and waffle features to reduce noise
Integral Skin Foam
The process of medium to high density integral skin foam is very smart. After the reaction mixture expands in a closed mould, the PU foam expands to create a solid outer skin and an open foam core hence the name integral skin foam. The heated aluminium tooling allows a range of textured finishes. The use of 'in-mould-coat' paints offers UV protected finish in any colour. Also by adding anti-microbial additives makes it perfect for health or medical applications such as medical motor housing. Integral Skin Foam is often used for medical motor housing and cab interiors such as 'buddy' seats, trim coverings and armrests.
The self-skinning foam combines a tough thin outer skin with a flexible foam interior to give enhanced operator comfort. A range of textures can be provided including synthetic natural finish such as leather.
Integral Skin Foam with moulded-in component
Padded baby changing Secure Mat with antibacterial surface for Baby Point
Read more about the Baby Point project
Rigid PU Foam Filling
A unique manufacturing process to inject low-density PU foam into hollow rotational moulded components for impact strength, floatation enhancement (buoyancy) or thermal (for example cooler boxes) and sound (for example pumping enclosure, engine cover) insulation.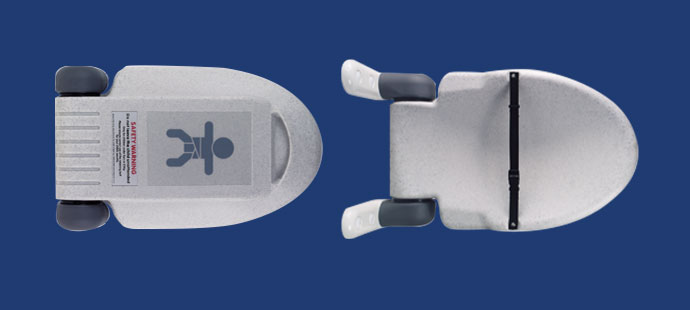 Sleek, durable wall-mounted baby changing table for airports, created for Baby Point. Read our case study here.