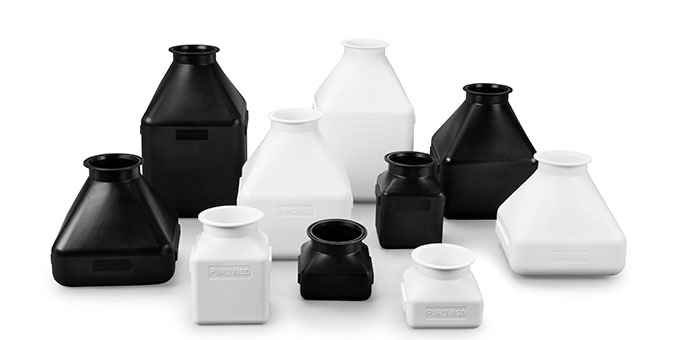 The process of rotomoulding produces hollow plastic shapes with controlled wall thickness and without seams or inherent stresses
Rotomoulded Plastics for Different Industry Applications
Industry uses rotational mouldings in a vast number of different ways. Plastics are found in the construction and petrochemical industries, power stations, industrial cleaning, telecomms and laboratories – to name but a few.
Plastic rotomoulded components used by industries obviously vary from the simple design to the complex, and rotomoulding is the process of choice for a range of reasons. It is particularly cost-effective for prototypes and shorter production runs.
Tanks and Containers – a Natural Use for Rotomoulding
Rotationally moulded plastics are one-piece hollow components – and this lends them very readily to creating tanks and containers. Rotationally moulded plastic tanks can be found everywhere, in every market and industry, in every shape, size, and colour.
Tecni-Form are called upon to produce chemical tanks, hydraulic tanks, oil tanks, water tanks, underground fuel tanks, and tanks for compressors or for laboratories. Tecni-Form make plastic containers for cables, cisterns, drums and bins.
Equally common, liquid containers to hold beer, soups or even coffee and dry containers – often in an open hollow shape such as a bin or hopper – for the storage and dispensing of granules, powders, pellets, packaged products and the rest.
More Complex Designs
Tecni-Form have the design and production skills to manufacture highly complex designs of tanks. Tecni-Form will build a complete component, with screws, clips, moulded screw thread fittings – or whatever system suits the design – ready for installation in the end product. For some applications, it may be possible to use cheaper recycled polymer to produce the tank, either as one layer in a multilayer moulding, or in some cases for the entire moulding. Not only does this reduce expenditure on materials, but also it makes the component more eco-friendly.
If you require plastic tanks or containers for liquids or solids, then rotomoulding may well be the right production process.
Example of our Work
A great example of rotational moulding excellence is this large water purification tank, custom-made for a company dedicated to solely pioneering water purification systems. With this rotomoulded tank, large volumes of pure water are produced, stored and distributed for laboratories and hospitals. We manufacture the main tank, a door moulding that houses the operator interface and the base moulding that has the pump. Tecni-Form assembles the moulded parts with bought-in components including hinges and hose connection block. We also fill the base with polystyrene ball for sound dampening.
Municipal Equipment and Street Furniture
Rotational moulding is an ideal process for manufacturing municipal products such as rubbish bins and roadside furniture. Other hollow plastic items such as traffic barriers, portable toilets, salt and grit bins, and road safety equipment can be made quickly, easily, and at a low cost using rotomoulding. Tecni-Form have techniques for applying municipal logos and other text.
More complex plastic items can also be created with rotational moulding. Wheeled bins can be manufactured with housings for metal wheel axles; and the wheels themselves can be rotomoulded if required. Rotationally moulded plastic components can be used in street cleaning machinery, waste treatment systems and public lighting, to name just a small selection.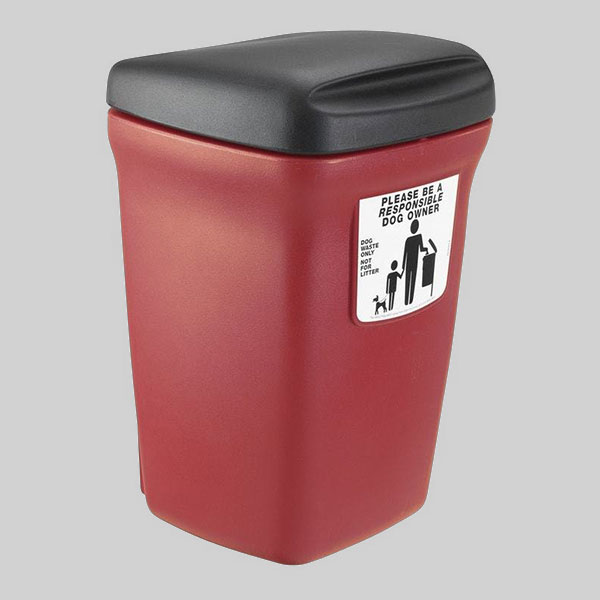 Environmental Products – Recycling Banks
Environmental products also make good use of rotational moulding. Paper, metal, and bottle recycling banks can all be manufactured using this process, as well as components for more complex environmental products such as solar showers and equipment for controlling oil spills.
The rotational moulding process is itself kind to the environment. There is almost no waste of raw materials during moulding; the raw materials can be made of recycled stock; and polyethylene (the commonest material) is 'clean' and easy to reprocess.
Pipes & Ducts
Rotational moulding is especially suitable for making pipes and ducts, including ones of irregular shape. The process of rotomoulding produces hollow plastic shapes with controlled wall thickness and without seams or inherent stresses. These hollow shapes can subsequently be machined to produce holes, slots and cutouts – which describes the characteristics of complex pipes and ducts.
It is possible to make many shapes of pipes and ducts with other processes, but rotational moulding is likely to be the most cost-effective answer. It is ideal for prototyping too, and results are accurate and look good.
Tecni-Form offer something extra. They can build assemblies of multiple plastic and metal parts, shipping a finished component to you for installation. An example is a complicated air conditioning assembly used by a leading luxury car maker: it is a mass of junctions, ducts and galleries all built up accurately on a jig.
Further examples are sanitary equipment, offshore pipeline parts and pipework for food processing. Resistance to chemicals and ease of cleaning are often important, areas where rotational moulding excels. Parts can be designed with metal inserts like mountings, clips and threads permanently moulded in. A useful feature is their ability to add logos and written instructions and warnings, or diagrams, into the surface of a moulding.