Rotomoulding Shaping the Furniture Industry
Wood versus Polymer
The manufacture of furniture has undergone a major sea change, as going back to the most ancient civilisations furniture making was a handicraft while now it is a mass production industry.With the continued growth in demand for office spaces (especially in London) and the rise in people working from home, the UK office furniture market is expected to rise annually by 3-4% until 2021 according to the Office and Home Office Furniture Market Report – UK 2017-2021 Analysis by AMA Research.
In this blooming market, while functionality and ergonomics are still important, consumers are looking for more, a product that is eye-catching and expresses their personalities. Of course, we can make creative shapes from wood as well, we have been doing it for centuries, but when it comes to rounded shapes, artistic designs or special finishes and colours, plastic could be a far better choice.
Wacky designs
The below seating is just an example of the design capabilities we can achieve with rotational moulding, it has actually won the Best Innovative & State-of-the-Art Awards at the 2015 ARM Rotomolded Product Competition in Colorado.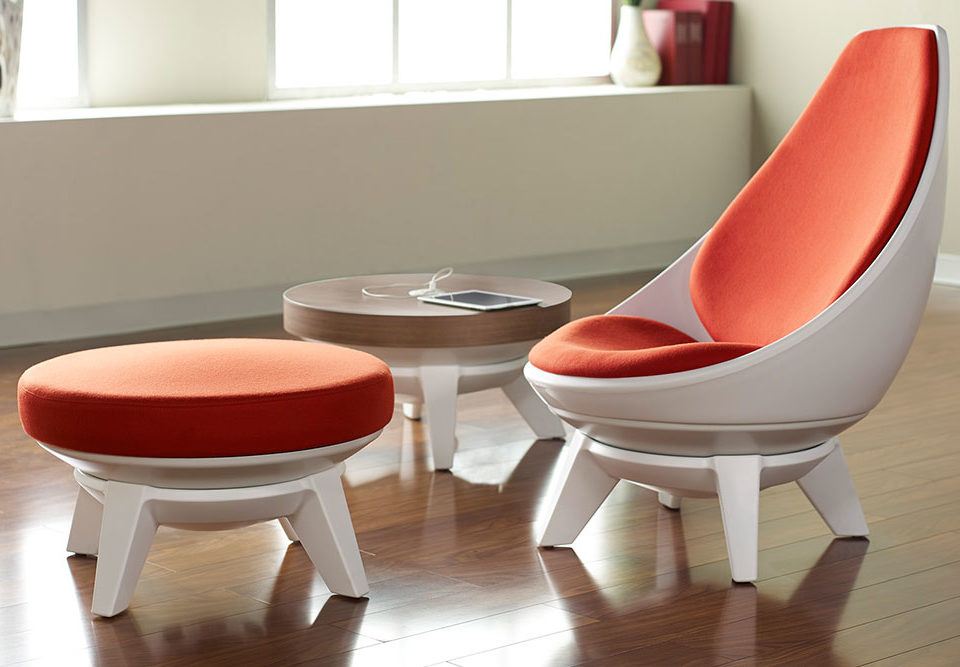 Tecni-Form created the inner shape of the below ATOM Meeting range for UK's leading furniture manufacturer BOSS with rotational moulding technology. The seating arrangement with its curvy shape, bright colour and modular design is an elegant solution for a corporate environment.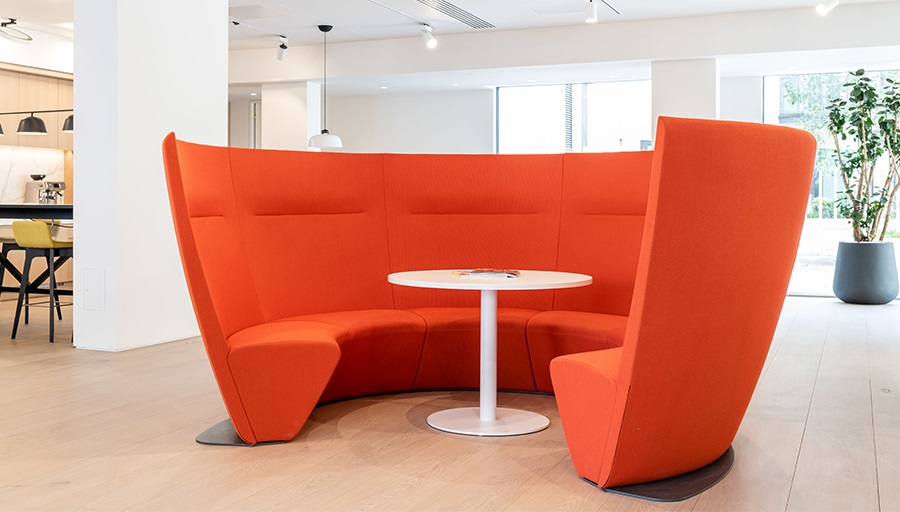 The advantage of moulded shapes is that it can be produced easily in compound curves at no additional cost compared to wood which comes in flat sheets. Wood not only has its limitations, but the fabrication of rounded forms can become a bit of a struggle.
Tough as wood
Many furniture types, like chairs for example, need to be comfortable, but also durable. It goes without saying that they are being used throughout the day by a number of different people, so it's crucial they are able to cope with a variety of weights and be able to handle plenty of knocks with very little to no damage.
We would think that wood comes out top in terms of durability, but plastic resin types and moulding technology have improved so much recently that plastic could stand up to this challenge. Polymer has an exceptionally good impact strength and manufacturers can also design strength in by the use of kiss points and flexibility in varying the wall thickness.
Cost-effective solution
When producing items like this, it's important to take into consideration the cost advantage as well. Plastic furniture (compared to wood) are more economical to manufacture due to modern moulding techniques, as it is much lighter and less materials are required to make it, thus meaning it is easier to mass produce and transport. Wood in itself is an expensive raw material and quite labour intensive when it comes to complex forming.
Therefore, it is not a surprise that furniture manufacturing through rotational moulding technology has gained its place in this industry and will grow and develop further.
If you are looking to make a complex or hollow shaped product or part, Tecni-Form will help you to turn your concepts into reality. Rotational moulding has now been developed at Tecni-Form to such an extent that a vast range of options are possible.