Rotomoulded polypropylene now at supermarket checkouts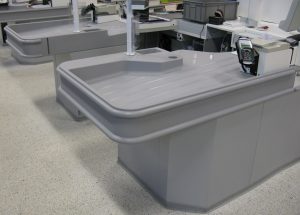 Product designers can rarely recreate, in a single piece, an item that normally comprises dozens of assembled parts. Yet there is a well-established manufacturing process – rotational moulding (rotomoulding) – that can unlock the opportunity to do exactly this.
When a supermarket design team approached Tecni-Form with a new checkout concept, the result was an intriguing rotomoulded solution and a genuine advancement for the retail sector.
The design challenge centred on the hopper – the final section of a supermarket checkout counter, where scanned items are corralled ready for the shopping bag. Conventional checkout hoppers are constructed in stainless steel and supported underneath by a stand fabricated in steel, or MDF panels.
The enthusiasm for a switch to a moulded hopper came from a study in which the supermarket chain assessed its overall carbon footprint. The study included aspects of store construction and reported that manufacturing hoppers by a moulding process would incur lower CO2 emissions than the conventional stainless steel manufacture and assembly.
Simultaneously, there was also an opportunity to reduce the installed cost, should a moulded hopper prove to be a successful replacement. Although stainless steel survives the knocks, scratches and spillages that hopper surfaces take, the limitations of sheet metal forming mean that a multi-component construction is unavoidable. In this particular case, Tecni-Form was advised that 17 separate parts and more than 100 pop-rivets were needed to put the conventional metal hopper together.
Method and material selection
Studying the feasibility of a rotomoulded solution, Tecni-Form's tooling and materials experts quickly confirmed that the complete hopper could be reproduced as a one-piece moulding, thereby removing the need for an assembly operation.
Originally, the hopper designers considered medium density polyethylene (MDPE) the most likely moulding material, given its excellent impact strength and the fact that PE accounts for over 90% of all rotationally moulded output. However, Tecni-Form was also aware of the latest developments in polypropylene (PP) rotomoulding and advised that in such aggressive operating conditions, PP would offer the superior abrasion resistance necessary to maintain a presentable surface finish.
State-of-the-art PP
Despite sharing the broader characteristics of its polyolefin stable-mate, PE, PP has never been widely used in rotational moulding. The rotomoulding process requires raw materials in a powdered form and as PP powder grades are predominantly made by a cryogenic grinding process this renders them around two times more expensive than PE powders.
However, the higher rigidity of PP enabled Tecni-Form to reduce wall thicknesses, making the cost of the hopper in PP acceptable, and the superior gloss, abrasion resistance, chemical resistance and tactile quality all pointed to PP as the right choice for the checkout hopper. Extensive wear tests confirmed the material selection.
Tooling up for a successful outcome
Working closely with the customer's in-house design team, Tecni-Form produced mould tools for left-hand and right-hand hoppers. The moulds accommodated a number of integral features, including a disposal chute for security tags, pre-formed holes for digital readout columns and wraparound trolley bumpers. Kiss points were incorporated between the upper and lower sections of the moulding, to produce the required strength and rigidity.
A hybrid tooling construction was employed in order to minimise the set up costs, with a top half CNC-machined from block aluminium and bottom half in cast aluminium. So far, the left and right hand tools have produced 1500 pairs of units, at a significant cost reduction and with a lower carbon emissions tag, when compared with stainless steel checkouts.
Feedback suggests the rotomoulded hoppers have a more welcoming appearance and feel than the traditional design and contribute to a more modern, distinctive aesthetic in the retail environment. The first units have completed 5 years in service without problems, providing strong justification for the design concept, manufacturing approach and choice of material.